WITH OTHERS

Please Note.
The *Listings* section is simply what is printed on the disc listing.
It may NOT actually be what is ON the disc. This is covered in the Info/ Problems section.






David Bedford
Rhyme Of The Ancient Mariner 'Live'





Don't have a full listing of this.
I'm 'sure' I have this somewhere, but I am fairly sure it isn't actually 'Mariner' on the disc.






David Bedford, Tom Newman, Mike Oldfield
Variations On A Rhythm Of Mike Oldfield (Voiceprint VP191CD)





Listing:
1. Variations on a rhythm of Mike Oldfield
2. Superman (demo)
3. Day of the percherons (demo)
4. Have mercy on my eyes (new track)


Info/Problems
Track 1 is by David Bedford
Tracks 2-4 are by Tom Newman and Mike Oldfield






Bedford/ Kevin Ayers And The Whole World
The Garden Of Love (Voiceprint VP180CD)





Listing:
1. The Garden Of Love


Info/Problems
For some reason, this is credited to 'Kevin Ayers And The Whole WIDE World'.
This is one of those pieces by David Bedford that is almost painful to listen to.
The music is credited as being 'written' by David Bedford and performed by Kevin Ayers and the Whole World. (IE, Ayers, Bedford, Oldfield, Robert Wyatt, Lol Coxhill and Six Beautiful Girls.)

From the booklet... "...at one point the dancing girls also become involved, taking over the keyboards and bashing them with their fists and arms while the band drink beer on stage."

A...'unique' recording!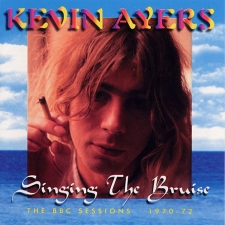 Kevin Ayers
Singing The Bruise - The BBC Sessions 1970-72 (Strange Fruit SFRSCD 025)





Listing:
1. Why are we sleeping
2. You say you like my hat
3. Gemini Chile
4. Lady Rachel
5. Derby Day
6. The Interview
7. We did it again
8. Oyster and the Flying Fish
9. Butterfly Dance
10. Whatevershebringswesing
11. Falling in love again
12. Queen Thing

Info/Problems
Track 3 oddly titled Gemini Chile as opposed to the correct 'child'.







Kevin Ayers And The Whole World
Colours Of The Day




Listing:
1. Oyster and the Flying Fish
2. Lady Rachel
3. We did it again
4. Hat Song
5. Clarence In Wonderland
6. Colores Para Dolores
7. Why Are We Sleeping?
8. Garden Of Love
9. Gemini Child
10. Trying Hard To Know
11. Hat Song

Info/Problems
Looks like this disc contains the entire 'David Bedford' Garden of Love disc.
Would be interesting to see how much of this is repeated from the 'Singing The Bruise' release.
Also one assumes the two versions of 'Hat Song' are versions of 'You say you like my hat'.






Kevin Ayers
Document Series Presents - Kevin Ayers





Again, NO info.
I have only 'heard' that Mike is on this. Any clarifcation would be nice!